Compartment Corner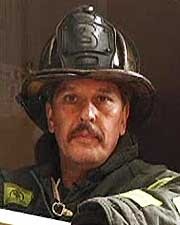 Michael Ciampo is an instructor for On Scene Training Associates.  Lt. MICHAEL CIAMPO joined the fire service in 1979 as a volunteer and began his professional career in 1985, he is a lieutenant in the Fire Department of New York. Previously, he served with the District of Columbia Fire Department and Wyckoff, NJ VFD. He has a bachelor's degree in fire science from John Jay College of Criminal Justice, NY. He is the lead instructor for the FDIC Truck Essentials H.O.T. program and teaches at numerous seminars around the country.. He wrote the Ladder chapter and co-authored the Ventilation chapter for Fire Engineering's Handbook for Firefighter I and II (Fire Engineering, 2009) and is featured in "Training Minutes" truck company videos on www.FireEngineering.com. His video Bread & Butter Portable Ladders DVD is available from Pennwell. His monthly column ON FIRE is on the back page of FIRE ENGINEERING.
Mike Ciampo's most recent article written for www.fireapparatusmagazine.com is entitled Compartment Corner. The following is an excerpt from this article.
Welcome to this addition of "Compartment Corner." From time to time we'll feature articles on various types of tool compartments and their layouts. In addition, we'll present photos and video of these compartments and the tools that are in them on different types of fire apparatus. Hopefully, by reading this column, you'll be able to design a layout for your needs, find an answer to a mounting issue, requisition another type of tool, or look at the ways others have created solutions or innovations to make their compartments work for them.
Tower Ladder Saw Compartment
On this Seagrave tower ladder, the left rear compartment is dedicated to the company's saws. Having all the saws in one centralized area makes it easy for members to know their location in an emergency. The compartment is fitted with a roll out tray at the bottom, a center fixed shelf, and a top transverse shelf.
Read full article here.
Stay Informed
When you subscribe to the blog, we will send you an e-mail when there are new updates on the site so you wouldn't miss them.